The Summer Lunch Program is a partnership between Andrews House and the Delaware City Schools Family Resource Center. A free lunch is served to children under 18 every weekday during the summer when school is not in session.
                                                                      Where:    Willis Intermediate School
                                                                      74 West William St.
Delaware Ohio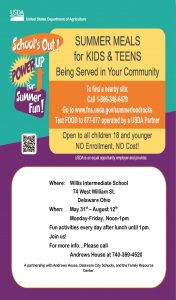 When:      May 31st – August 12th
Monday-Friday, Noon-1pm
Fun activities every day after lunch until 1pm.
Join us!
For more info…Please call
Andrews House at 740-369-4520
A partnership with Andrews House, Delaware City Schools, and the Family Resource Center.