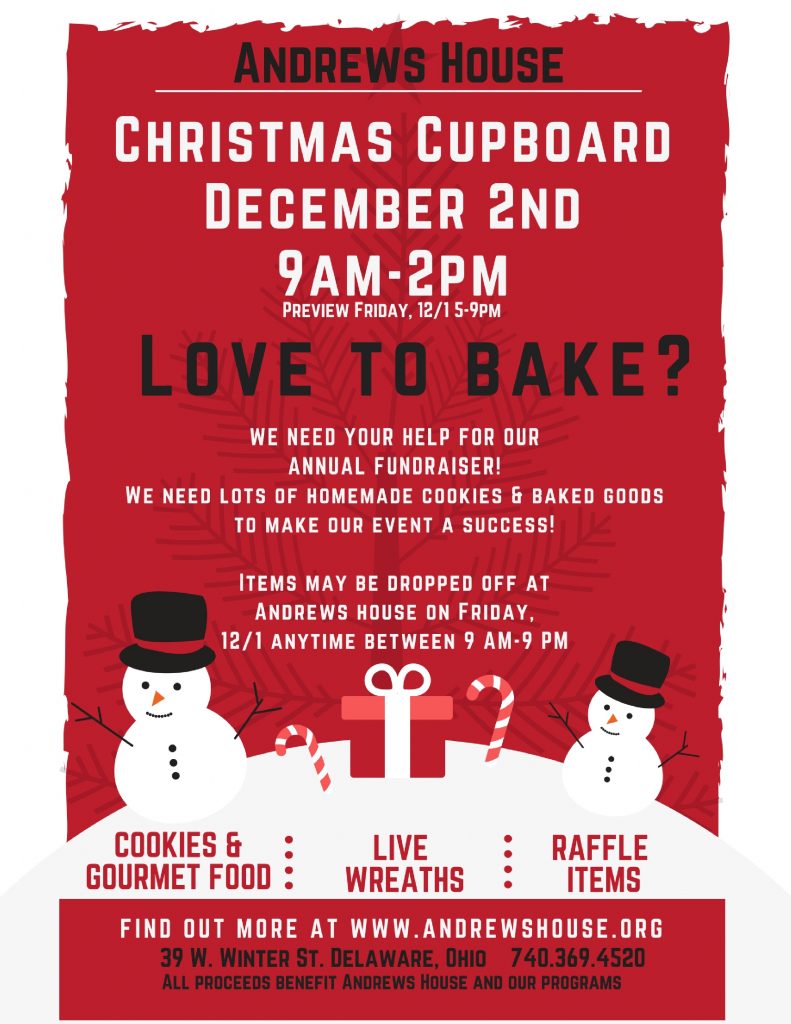 Save the date and BAKE A DIFFERENCE for our annual Christmas Cupboard event!
We need your help in filling our "cupboard shelves" once again for our annual Andrews House Christmas Cupboard Fundraiser. We need lots of cookies, specialty baked goods, and gourmet items. Any & all bakers and cooks are encouraged to participate! This is a great family, club, or church project.
We are looking for cookies (especially decorated cookies), buckeyes, baked goods including small loaves of sweet & savory bread, jams and jellies, and soups.  Festive wrapped goods (a pretty bag full of Pizzelles) are especially welcome as well as all sorts of decorated Christmas cutout cookies and other delicious, festive cookies.
Show off your talents with those gorgeous cookies!
Please Note:
· Box goods in non-returnable containers labeled with your name and/or group name.
· Drop-off items at Andrews House between 9am-9pm on Friday, December 1st from 9 am – 9 pm.
**This year we are using Sign UP Genius to know better who and how many bakers are committed to contributing.
Please click below to sign up you or your group:
Please come to the Christmas Cupboard on
December 2nd 9am-2pm 
and enjoy the festive holiday ambiance of Andrews House
while supporting our fundraiser
Thank you to all who have participated in the past by baking, buying or both.  We appreciate your support of Andrews House!