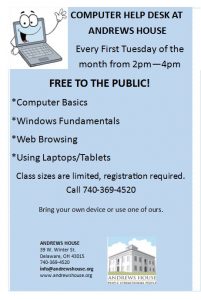 Computer Help Desk at Andrews House.  Every First Tuesday of the month from 2pm – 4pm.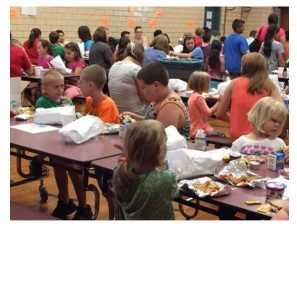 VOLUNTEER OPPORTUNITY! We need volunteers to help serve food and engage in activities with the children Monday – Friday.  The lunch program is held at the Second Ward (54 Ross St).  Volunteer application: Summer Lunch Program Volunteer form 2017 Here at Andrews House, we are in need of volunteers on Monday, Wednesday, and Friday from 10 am-11 […]
Our Mission: To provide a place for hospitality, healing, and education and to advocate for individuals and families in the community. It is a safe place of acceptance, where people meet, learn, find solutions, overcome differences, and achieve wholeness
Donations
Thank you for making a difference in Delaware County through your tax deductible donation to Andrews House. We appreciate your support.
Stay in touch
Share your email address today to receive Andrews House email updates!
My family recently experienced a job loss and went through a tough time. Andrews House has been a blessing. Without their support, we would not have been able to provide for our family and get back on our feet so quickly.