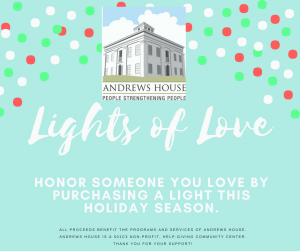 Download a brochure here:  Lights of Love Brochure Additional names may be listed on a separate sheet of paper.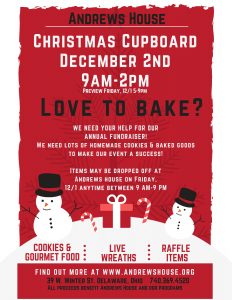 Save the date and BAKE A DIFFERENCE for our annual Christmas Cupboard event! We need your help in filling our "cupboard shelves" once again for our annual Andrews House Christmas Cupboard Fundraiser. We need lots of cookies, specialty baked goods, and gourmet items. Any & all bakers and cooks are encouraged to participate! This is a great family, club, or […]
Our Mission: To provide a place for hospitality, healing, and education and to advocate for individuals and families in the community. It is a safe place of acceptance, where people meet, learn, find solutions, overcome differences, and achieve wholeness
Donations
Thank you for making a difference in Delaware County through your tax deductible donation to Andrews House. We appreciate your support.
Stay in touch
Share your email address today to receive Andrews House email updates!
My family recently experienced a job loss and went through a tough time. Andrews House has been a blessing. Without their support, we would not have been able to provide for our family and get back on our feet so quickly.